The winter season can slow a contractor's business, sometimes to a stand still. Here are 3 simple steps you can take to attract new customers during those slow periods.
STEP #1 – Take pictures of your work. Showing off your work is one of the best ways to attract new customers. A simple camera or even the camera on your cell phone can be a very important tool to keep on hand. Taking remodel before and after pictures or pictures of your newbuilds are wonderful examples to display on your website. Customers can see you are proud of your craftsmanship. It also gets people thinking of improvements for their own homes.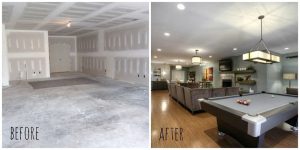 STEP #2 – Create or redesign your website. The internet has far surpassed the yellow pages when it comes to exposure and reaching new customers. An easy-to-use website that is that is attractive and up-to-date can really help your company stand out. It is a great way to showcase your work, as well as a means for people to find your contact information.
STEP #3 – Take advantage of social media. Social media is a great way to get in front of a new generation of homeowners. Create a Facebook, Instagram and LinkedIn page for your business. Update them once a week with interesting material, such as a project you are proud of, or customer testimonies. Before and after pictures are not only fun to look at, but they display your best work, putting you at the top of the list of contractors to consider when they want to make an improvement.
I hope this inspires you to bring your business in to the 21st century and help you obtain as much work as possible all year long. If you are interested in getting more information on marketing your company, or if you want to fill your idle time with required continuing education to renew your license, check out Certified Training Institutes courses at www.licensetobuild.com.
Good luck and keep contracting.
Zach Francis