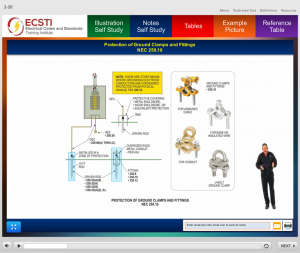 Alabama electrical contractors and Provisional electrical contractors are required to complete 14 hours of continuing education every two years. 7 of the electrical education hours must be based on approved NEC / NFPA topics. Electrical licenses must be renewed every year by the end of the quarter in which the license was issued in. Quarterly renewals are every three months: March 30th, June 30, September 30th, and December 30th.
Current license categories requiring continuing education for renewal:
Electrical Contractors:  14 hours, 7 hours must cover the current NEC
Provisional Electrical Contractors:  14 hours (grandfathered in as the license is no longer offered)
Journeymen:  No continuing education is required
Electrical Inspectors:  dependent on local jurisdiction requirements
Master Electricians:  14 hours, referred to as an electrical contractor
How do I renew my Alabama electrical contractor license?
Step #1:  Complete continuing education requirements for your license type. Licensees will not be able to renew if they have not completed the required continuing education.
Step #2:  Starting December 31st, 2014, licensees are required to submit proof of continuing education hours to renew their license. (printable certificates are available upon course completion.)
Step #3:  Licenses can be renewed online, please click here to view the online renewal portal.
How much does it cost to renew my electrician's license?
Electrical Contractor
Renewal Fee $150.00
Late Renewal Fee $50.00 aditional charge.
Journeyman
Renewal Fee $35.00
Late Renewal Fee $15.00 additional charge.
Provisional Electrical Contractor License:
Renewal Fee $75.00
Late Renewal Fee $50.00 additional charge.
Where can I find Online Electrical Continuing Education that is Approved in Alabama?
ECSTI provides award winning (EC&M Product of the year) continuing education that is approved in Alabama. With packages that fulfill all requirements, and a system that will keep track of all your certificated, submissions, and even alert you the next time your renewal comes around. To find out more about completing your continuing education online click here.