Residential Wiremen, Journeyman Electricians, and Master Electricians are required to take a Continuing Competency ( CC ) test every three years. The CC test will determine the number of approved Professional Development Units ( PDUs ) if continuing education hours needed for renewal. Licensees may be required to complete as many as 24 hours of PDU continued education depending on their score. Licenses renew every 3 years to coincide with the NEC updates.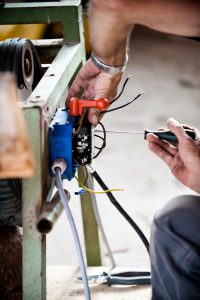 The Colorado State Electrical Board requires electricians to demonstrate continuing competency in the electrical field before they can renew, reinstate, or reactivate their licenses. This requirement came into effect on January 1, 2011 and applies to the following license types.
Residential Wiremen
Journeyman Electrician
Master Electrician
Department of Regulatory Agencies (DORA) Electrical Board requires you to take a Continuing Competency exam every three years. Your Continuing Competency assessment score will determine if you need to 8, 16 or 24 PDU's of continuing education to renew your license. The number of PDUs required for the cycle is determined by your score on the mandatory Continuing Competency (CC) assessment test given by Prometric. Your score (low areas) will also determine in which Core Competency area(s) you will need to take your PDU's:
Grounding and Bonding
NEC Changes
Wiring Methods
Theory and Calculations
How do I renew my Colorado electrician's license?
Step #1: At the beginning of the license cycle, licensee's must complete the "Individual Assessment" given by Pearson VUE, click here to view their website. The assessment must be completed within 150 days after the adoption of the most recent National Electric Code.
Step #2: Complete the required continuing competency PDUs as assigned on your previous Continuing Competency (CC) assessment.
Step #3: Log your completion of PDUs within the online CC system. To access the CC system, please click here.
Step #4: Renew your license by going onto the Colorado DORA's Online Services, click here to see the page. The renewal portal for electricians will open approximately 6 weeks before the license period ends.
Where can I find Online Electrical Continuing Education that is Approved in Colorado?
ECSTI provides award winning (EC&M Magazine's Product of the year) continuing education that is approved in Colorado. With packages that fulfill all requirements, and a system that will keep track of all your certificated, submissions, and will even alert you the next time your renewal comes around. To learn more about completing your continuing education online click here.