Fred B. Sharon House
The Fred B. Sharon House is a three-story, brick home built in Second Empire style in 1891. Fred B. Sharon was a high school teacher in New York City turned newspaper publisher and postmaster of the city of Davenport. Financial problems forced Sharon to sell his newspaper in 1936, however, various other business ventures allowed Sharon to remain in his home until his death in 1949.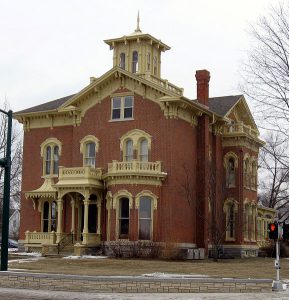 Close House
Photo by: Billwhittaker
The Close House was designed in 1874 by August Hazelhorst in the Italianate style. The home was originally owned by the Close family, who were involved in the linseed oil and glove industries. After the Close family sold the home it was used as a fraternity and later, the Johnson County Department of Social Welfare. Currently, the building is used by an interior design firm and a picturing framing shop.
Iowa Yearly Meeting House
Photo by: Boscophotos
The Iowa Yearly Meeting House is a historic church in Oskaloosa, Iowa. The church was designed by A.T. Simmons in Colonial Revival style and completed in 1913. The church replaced a simple structure from 1865 as part of an effort to draw more patrons to the Quaker church.  The church gained its name from the yearly Quaker meeting held here.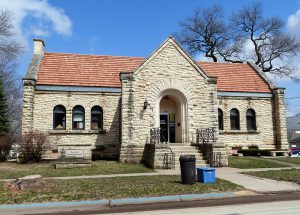 Anamosa Public Library
Photo by: Ian Poellet
The Anamosa Public Library, an example of Romanesque Revival, was built by Dwight H. Perkins. The building is unique because it was built using exclusively private funds. Community members began campaigning for the library in 1900 after a community member named Walter S. Benton donated $10,000 to the city for purchasing library books. Benton's donation was based on the expectation that the city would build a library by 1903. When the city failed to follow through with the project Miss "Lou" Shaw took charge and raised the necessary construction funds.
IOWA ARCHITECT LICENSE RENEWAL DEADLINE: JUNE 30, 2017
Iowa architects are required to complete 24hours of continuing education by June 30, 2017. Architects Training Institute offers state approved continuing education packages and individual courses to renew your license.
Iowa Architect Continuing Education Courses
1-800-727-7104
info@traininginstitutesedu.com