This month, many Texas residents mistakenly believed they encountered the Asian giant "murder" hornet. In order to stave off any future bee-related backyard BBQ freakouts, researchers at Texas A&M ArgiLife have released important details regarding these recent "murder hornet" sightings.
David Ragsdale, Ph.D., chief scientific officer and associate director of Texas A&M AgriLife research said his department has received up to 10 photos of various wasps per day from people who think they're seeing the Asian giant hornet. But what they're actually looking at is the Texas native cicada killer wasp, or ground hornet. Many pest management agents and specialists around the state have also received "murder hornet" related inquiries.
"Most everyone has seen the cicada killer wasp, that is very large, but has mostly been ignored in the past," Ragsdale said. "With the most recent news of the Asian giant hornet, they are now paying attention to the native Texas insect."
How to Tell the Difference
Since the cicada killer wasp and their other native Texan lookalikes are currently going through a case of mistaken identity, below are key differences between them and the Asian giant hornet.
Note: Holly Davis, Ph.D., a Texas A&M AgriLife extension service entomologist in Weslaco said it's important to know that there have been no confirmed reports of Asian giant hornets in any other U.S. location other than the northwestern corner of Washington state.
Asian Giant Hornet
Is 1.5 - 2 inches long
Its head is as wide or wider than its shoulders
It's body is a combination of bright orange/yellow and dark brown
It has a pinched waist with brown and orange stripes that cover the abdomen
Cicada Killer Wasps
All three species are between 1 - 1.5 inches long
Their heads are narrower than their thorax
Their heads and thorax are typically the same dark orange or brown color
They also have a pinched waist, but their abdomen stripes are jagged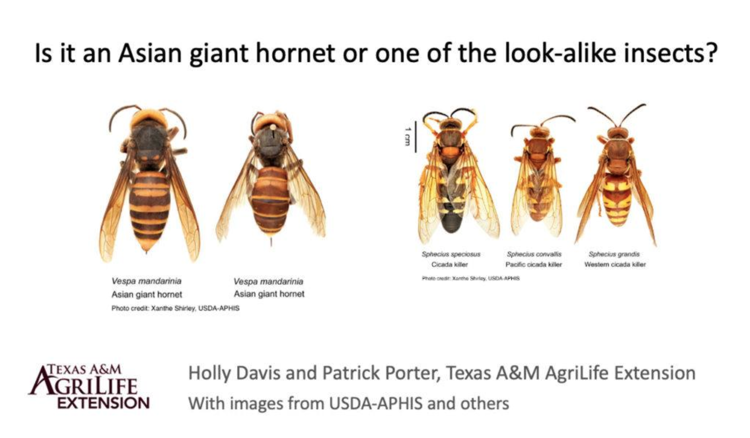 Davis says Asian giant hornets are very protective of their nests and will sting people who they view as a threat - but cicada killer wasps are mostly solitary and usually don't attack in great numbers. Although you likely won't deal with any Asian giant hornets in upcoming service calls, just helping your customers understand the difference between these species can save their sanity.
---
Do you need state approved continuing education or exam prep?