Electricians in Maine need to renew their license every two years based on their date of licensure. Before a license can be renewed, the licensee may need to complete his/her continuing education. As a licensed electrician in the State of Maine, you are required to complete a total of 15 hours of approved continuing education every three years, or when a new version of the NEC is adopted. These 15 hours of continued education must be based on the NEC and is commonly called a "National Electric Code Update Course".
What's the best way to complete my 15 hours of continuing education?
Many electricians are finding that taking their code update course online is easier, more convenient, less expensive, and often more informative than classroom courses. Instead of taking time off work, driving to a course location, then sitting through two full days of lecture, they can complete their CE from their living room at their convenience. ECSTI, a Miane Approved course provider, has made huge technological leaps in creating a better learning experience and more interactivity for you the electrician. If you haven't taken an electrical course through ECSTI check out this demo.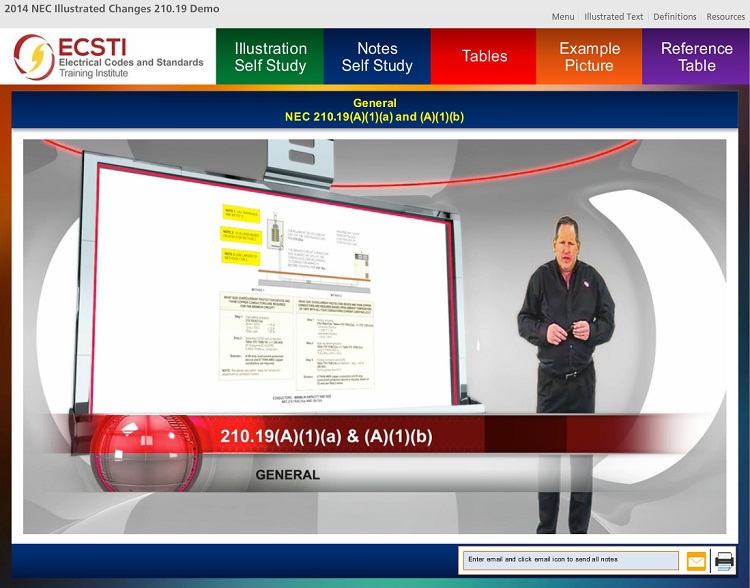 The 15 hour NEC code update course can be taken both in a classroom or online. It is important that the course provider and 15 hour course is approved by the State of Maine because you will have to show proof of your CE completion when you renew your electrician's license.
Once I have completed my 15 hour NEC update course, how do I renew my license?
You can renew your Maine Electricians License using the state's online renewal application, and pay any associated renewal fees by Visa, MasterCard or Check. (Payable to Maine State Treasurer)
Note: The Maine Department of Professional & Financial Regulation no longer mails out license renewal reminders to licensees. Renewal reminders are emailed to licensees using the email address that the state has on file. This email contains the access code required to renew a license online. If you are unsure that they have the correct email address you can update your information with the State using this link: Maine Licensee Information Update.
Does Maine have license reciprocity with any other states?
Yes,
Master electricians – your license will reciprocate in New Hampshire and Vermont
Journeymen Electricians – your license will reciprocate in Idaho, North Dakota, Vermont, New Hampshire, Oregon and Wyoming.
For more information on Electrical licensing or completing your continuing education for the State of Maine Here is a great link. 
For the fastest and most economical way to complete your electrical continuing education, visit www.ecsti.com or give the friendly staff a call at 1-800-727-7104.
Subscribe to our Blog and Follow us on Twitter @ElectricalCE to receive periodic updates on licensing information changes and deadlines, as well as exclusive discounts.