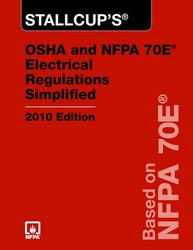 What is the NFPA 70E?
The standard NFPA 70E was developed by the National Fire Protection Association (NFPA) at the request of OSHA. The 70E covers electrical safety requirements for employees in the workplace. The National Electrical Safety Code (NESC) and the National Electrical Code (NEC) also required subparts of the NFPA 70E.
About The Course
Electrical Codes and Standards Training Institute (ECSTI) has collaborated with the Stallcup's to create a hands on, illustrated course series based on the 70E code changes. The goal in creating this course is to make the rules and regulations easy to understand and enforce in any safety training and workplace.
Designers must design and layout electrical systems to meet the provision of the OSHA standards.
Installers are required to install and wire electrical systems to comply with the NEC and provide safety for the employee working in his or her workplace.
Inspectors must inspect the electrical system to ensure that it not only complies with the NEC, but also provides the necessary safety requirements of OSHA and NFPA 70E.
This course is designed to give electricians a jump start on the information they need in order to interpret and apply some of the changes required by OSHA. In their course the Stallcup's give the appropriate reasons for revisions and new articles are given, along with what kind of impact such changes will have on:
Manufacturers
Designers
Installers
Inspectors
About the Instructor(s)
Upon completion of the apprenticeship program of the JATC in Fort Worth, Texas, James Stallcup went on to become a journeyman and master electrician. Soon after, he became an electrical inspector and within one year he was chosen to become the Chief Electrical Inspector of Fort Worth, Texas. Through determination and continued study on the numerous codes and standards that were essential to his work as an electrical inspector, he became a nationally recognized author, instructor, and consultant as past president of the Electrical Section of NFPA, Former Chairman of Code Making Panels 14 and 15, and Present Chairman of the EECA Committee (Electrical Equipment in Chemical Atmospheres) and a principal member of the 70E Committee (Electrical Safety Require­ments for Employee Workplaces), James G. Stallcup has not only earned a reputation as a knowledgeable and respected authority in the electrical industry but has gained prominence as a nationally known consultant to private enterprise and industry. The workshops that Mr. Stallcup has conducted and the instruction materials that he has authored over the last two decades precede his reputation. James is the author of eleven books that are highly regarded by his peers and is a frequent contributor to trade journals and magazines. Because of his knowledge, practical experience and an ability to tailor workshops and seminars to the varied fields in the electrical industry, he is in constant demand. He maintains a number of licenses and certifications and has received numerous awards from his peers in the electrical industry.