Ornamental and Turf Courses
Right of Way Related Courses
Right-of-Way: Pest Management Overview | Arizona Approval #19841
3 credits: Agricultural
3 credits: Pest Management Division
Pest management in right-of-way situations can be a challenge. The economic thresholds are different in right-of-way situations compared to either a landscape setting or an agricultural setting. This course provides an overview of pests common to rights-of-way, management solutions, a look at the equipment commonly used to treat rights-of-way, and a review of calibration steps for that equipment.
Also approved for Certified Crop Advisor Credit
course details
Right-of-Way: Pest Control | Arizona Approval #19849
4 credits: Agricultural
4 credits: Pest Management Division
This course will help applicators in Arizona understand the five main groups of pests, identifying those pests, and help applicators decide on management strategies. It will also cover the main causes of plant disease, plant life cycles, and the developmental stages through which plants progress.
Also approved for Certified Crop Advisor Credit
course details
Right-of-Way: Weed Control | Arizona Approval #19848
4 credits: Agricultural
4 credits: Pest Management Division
This course will review the methods and techniques to manage vegetation on rights of way and non-cropland industrial sites safely without damage to non-target species, sites, objects or the environment in Arizona.
Also approved for Certified Crop Advisor Credit
course details
Pollinator Health Related Courses
Balancing Pest Management and Pollinator Health | Arizona Approval #19845
2 credits: Agricultural
2 credits: Pest Management Division
This course covers the importance of honey bees, details honey bee decline statistics, and outlines the strategies that can be implemented in Arizona to coordinate the efforts of farmers, beekeepers, and applicators to find the balance between managing pests and protecting pollinators.
Also approved for Certified Crop Advisor Credit
course details
Pollinator Stewardship | Arizona Approval #19843
1 credit: Agricultural
1 credit: Pest Management Division
This course provides an outline of the primary concerns of the bee-keeping industry including colony collapse disorder (CCD), factors affecting honey bee decline, invasive insects, fungal disease, best practices for pollinator stewardship, and minimizing pesticide risks for pollinators in Arizona.
Also approved for Certified Crop Advisor Credit
course details
Vertebrate Pest Control Related Courses
Invertebrate Pest Control Related Courses
Pesticide Basics and Safety Courses
2020 Worker Protection Standard (WPS) - Agricultural Worker Training Program (Unlimited) - includes FREE Safety Compliance Bundle
Train Unlimited Workers | EPA Worker PST 00024 | EPA Handler PST 00018; 00022; or 00027 (Handler materials provided through PERC) This EPA Approved Training Program provides everything your business needs to train your agricultural workers. This video program comes in both English and Spanish and trains unlimited workers. Includes Handler Training Guide and Tracking System at No Extra Cost! February Only - Get a Free Safety Compliance Suite with Every Purchase - $99 Value - FREE
course details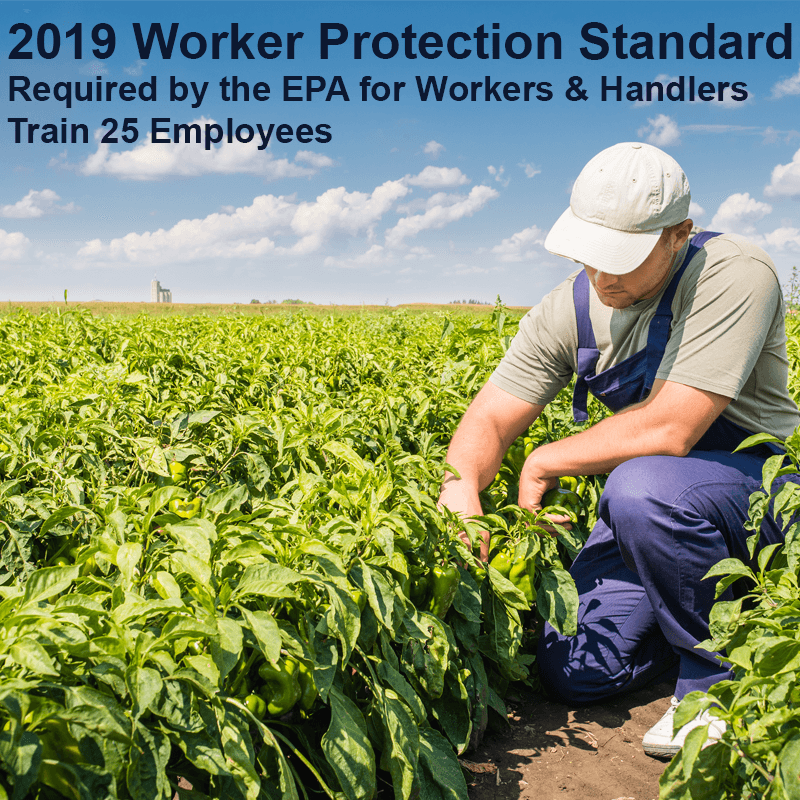 2020 Worker Protection Standard (WPS) - Agricultural Worker Training Program (25 Workers) - includes FREE Safety Compliance Bundle
Train 25 Workers | EPA Worker PST 00024 | EPA Handler PST 00018; 00022; or 00027 (Handler materials provided through PERC) This EPA Approved Training Program provides everything your business needs to train your agricultural workers. This video program comes in both English and Spanish and trains up to 25 workers. Includes Handler Training Guide and Tracking System at No Extra Cost! February Only - Get a Free Safety Compliance Suite with Every Purchase - $99 Value - FREE
course details
Safety Compliance Bundle
Meet safety compliance requirements with these 15-20 safety minute videos.
Personal Protective Equipment (2 classes)

Pesticides in the Environment (2 classes)

Transportation, Storage, and Security (2 classes)

Emergency Response
course details
Course Demo
Here is short preview from the Pesticide Labeling course.
About our courses
We offer the best in Online Pesticide Education providing CEUs approved by the Arizona Department of Agriculture. Our instructor-led video courses are fast, easy, affordable and meet state licensing requirements. We offer the following continuing education courses in full HD video, and they are available when you are!