Why Exam Prep Is Important for Pesticide Applicator Certification
Published on May 6, 2022 by Nate Bortz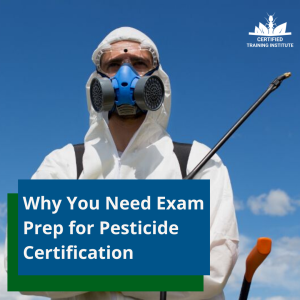 Becoming a certified pesticide applicator can feel like a long and difficult journey. There are many different categories to choose from that all require special knowledge, plus an in-depth certification exam.
While it may seem like a lot of "hoops to jump through," anyone who wants to become a certified pesticide applicator must first realize the great amount of responsibility involved – both personal and to the environment.
Great Responsibility
Because of the nature of the work, there are many federal and state safety regulations that a person must know before applying anything.
When not used properly, pesticides can cause:
Damage to the environment or a protected species' habitat

Sickness or death to non-target organisms, pets, the public, or the applicator themselves
That's why it's necessary to go through the proper training and pass an exam before becoming certified.
The rules and regulations you need to be familiar with can seem overwhelming! Whether you want to be a private or commercial applicator, the US Environmental Protection Agency (EPA) expects prospective applicators to "show practical knowledge" of topics like:

Understanding pesticide labels
Recognizing potential environmental hazards
Personal protective equipment and emergency responses
And that's just the beginning. There are also different categories of pest control that often have their own specialized pests, equipment, and practices that a prospective applicator needs to be familiar with.
To summarize: Pesticide application is a job that takes safety training very seriously.
Pesticide Applicator Exam Prep Resources
We understand that certification and licensing requirements can seem overwhelming. That's why we've created a "one-stop-shop" for online exam prep resources.
Online Exam Prep Courses
We worked with pesticide applicator experts to help craft accessible courses that provide an excellent knowledge base to pass the state exam and obtain your certification.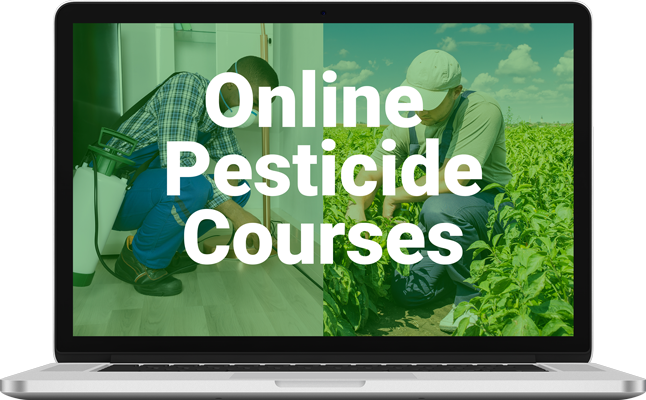 We have online video courses that cover:
Core Standards
Ornamental Plant Pest Management
Turf Pest Management
Aquatic Pests
Field Crop Pest Management
Structural Pest Management
Mosquito Control
And Much More!
State Requirements
Every state's certification requirements are different, with some being more complicated than others. We make finding specific requirements easy by offering detailed step-by-step initial certification information for all 50 states.
Get started by visiting this page, then by choosing the appropriate state under "Look Up Certification Requirements By State."
Free Study Guide eBooks
Students can download free Study Guide eBooks that give a comprehensive overview of what specific category exams cover and also what to expect in our exam prep courses.
They're a great no-cost way to "dip your toe in" when deciding on what type of pesticide application category to choose.
Company-Wide Worker Protection Standard Training
While our other resources focus on an individual student, the worker protection standard (WPS) training is for business owners looking to provide training for multiple employees at once.
We've written a separate blog that goes into more detail about these training packages, but here's the overview.
We provide businesses the EPA required documentation needed to submit
Downloadable and printable certificates of completion are available for the whole team
The entire WPS program has video lectures that provide English and Spanish subtitles
It may seem like becoming a certified pesticide applicator is a difficult journey, but no student needs to go through it alone!
Click below to view all of our exam prep resources that simplify the test-taking process.